Ensembles
Ensemble membership is comprised of undergraduate and graduate student-performers who study a wide range of subjects and disciplines across the seven schools and colleges of Cornell. In some cases, students audition for ensembles each fall, typically during orientation or on the first day of classes.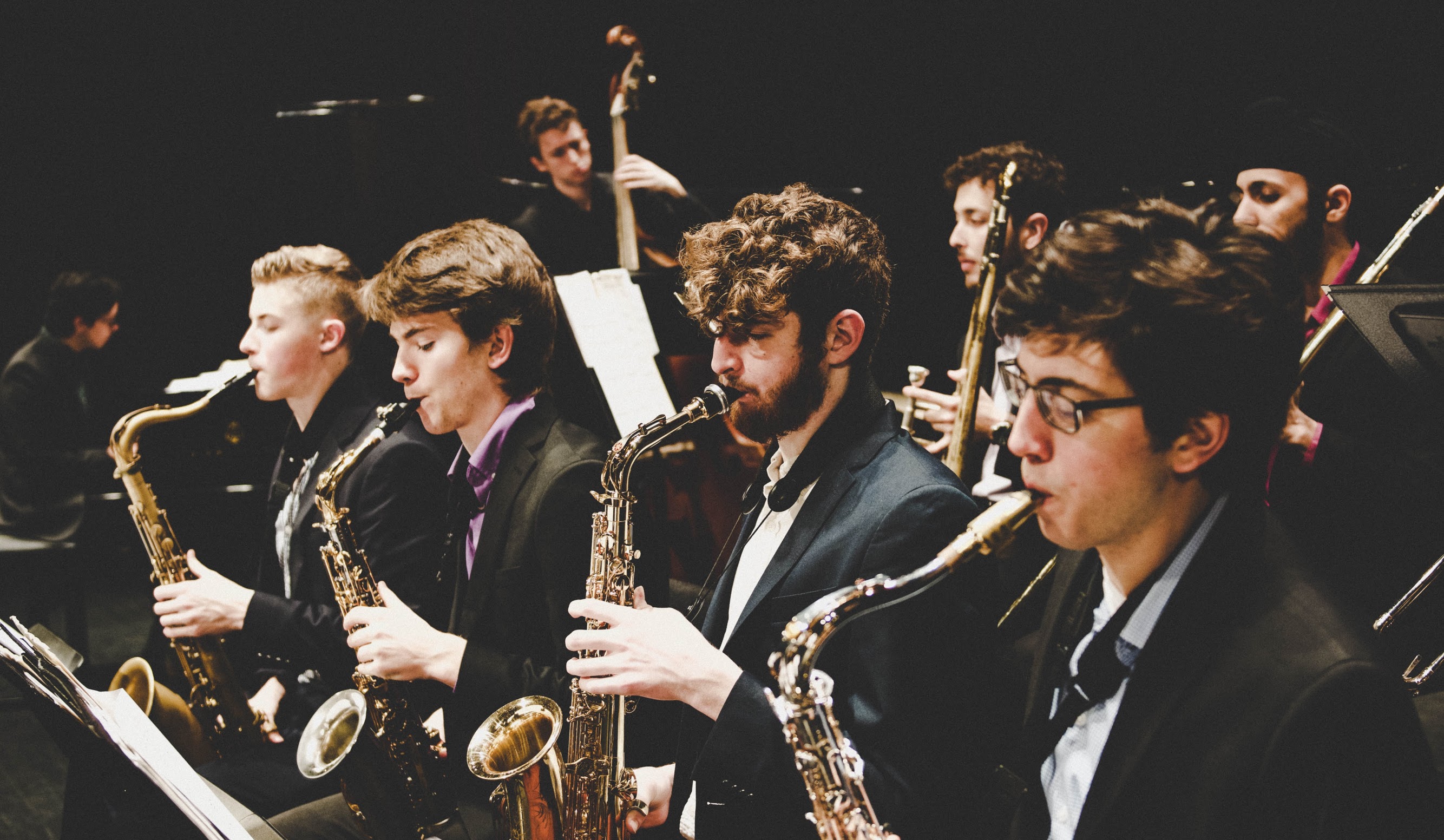 The Jazz Ensemble is the flagship group of the CU Jazz program. Students perform classic, modern, and contemporary repertoire in a large ensemble format. The group has commissioned works from Jim McNeely, Rufus Reid, and Paul Smoker and has performed with many jazz masters such as the late Dizzy Gillespie, Joe Henderson, Barry Harris, and James Moody. More recent guest artists include Maria Schneider, Joshua Redman, Peter Bernstein, and Wynton Marsalis. Although sight reading, musicianship, and ensemble work are the primary focus, there is a significant emphasis on the cultural and historical roots of the musicians and music performed. Audition Required.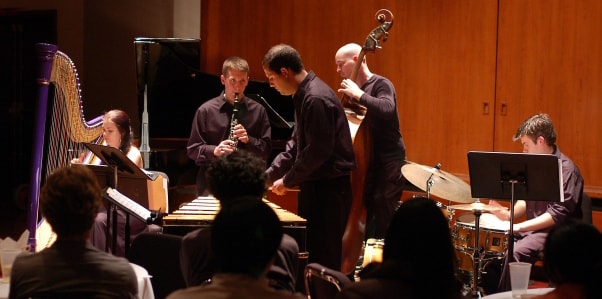 Jazz Combos consists of four groups/sections of various sizes named for generous friends, donors, or alumni of the jazz program. Combo repertoire often reflects the diverse interests of the musicians who populate the course. Occasionally, groups focus on one classic artist, such as Horace Silver, Art Blakey, or Weather Report, while other groups may choose to concentrate on writing and performing original material. Some elect a more balanced approach to jazz and jazz-influenced music around the globe. In all cases, students are encouraged to contribute to the curriculum by writing, transcribing, or suggesting pieces to study. This helps creates a rich collaborative environment that is overseen by weekly coaching sessions from faculty. Combos perform at events all over campus and New York State including New York City. Audition Required.
Herbert Gussman Jazz Combo — Section 501

Robert and Helen Appel Jazz Combo — Section 502

Richard Trommer Jazz Combo — Section 503

Kenneth Bissett Jazz Combo — Section 504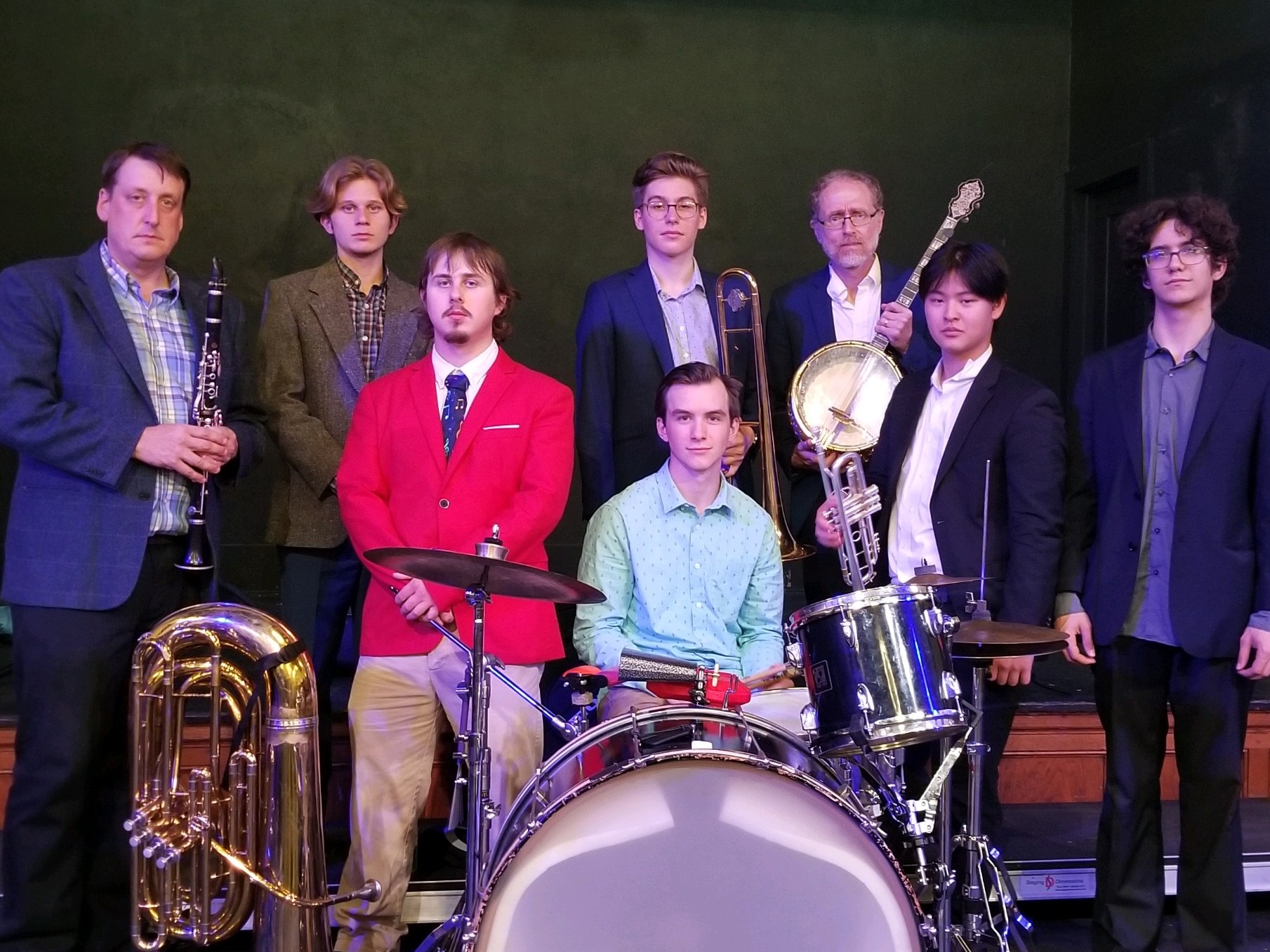 Conceived by trumpeter Colin Hancock '19, the Syncopators were formed to explore the music of the Original Dixieland Jass Band for a concert celebrating the 100th-year anniversary of the first jazz recording. It has since grown into a larger ensemble that performs both sweet and hot music from the 1920's and beyond. In addition to performing, the group is deeply invested in preserving early jazz history at Cornell and around the world. The Syncopators performed at the San Diego Jazz Festival in 2017 and have performances scheduled in Rochester, Philadelphia, San Diego, and the Triad Theater in New York City in 2018. They enjoy a unique position in the CU Jazz program as a group that is professionally motivated, student administered, and faculty coached. Membership by invitation.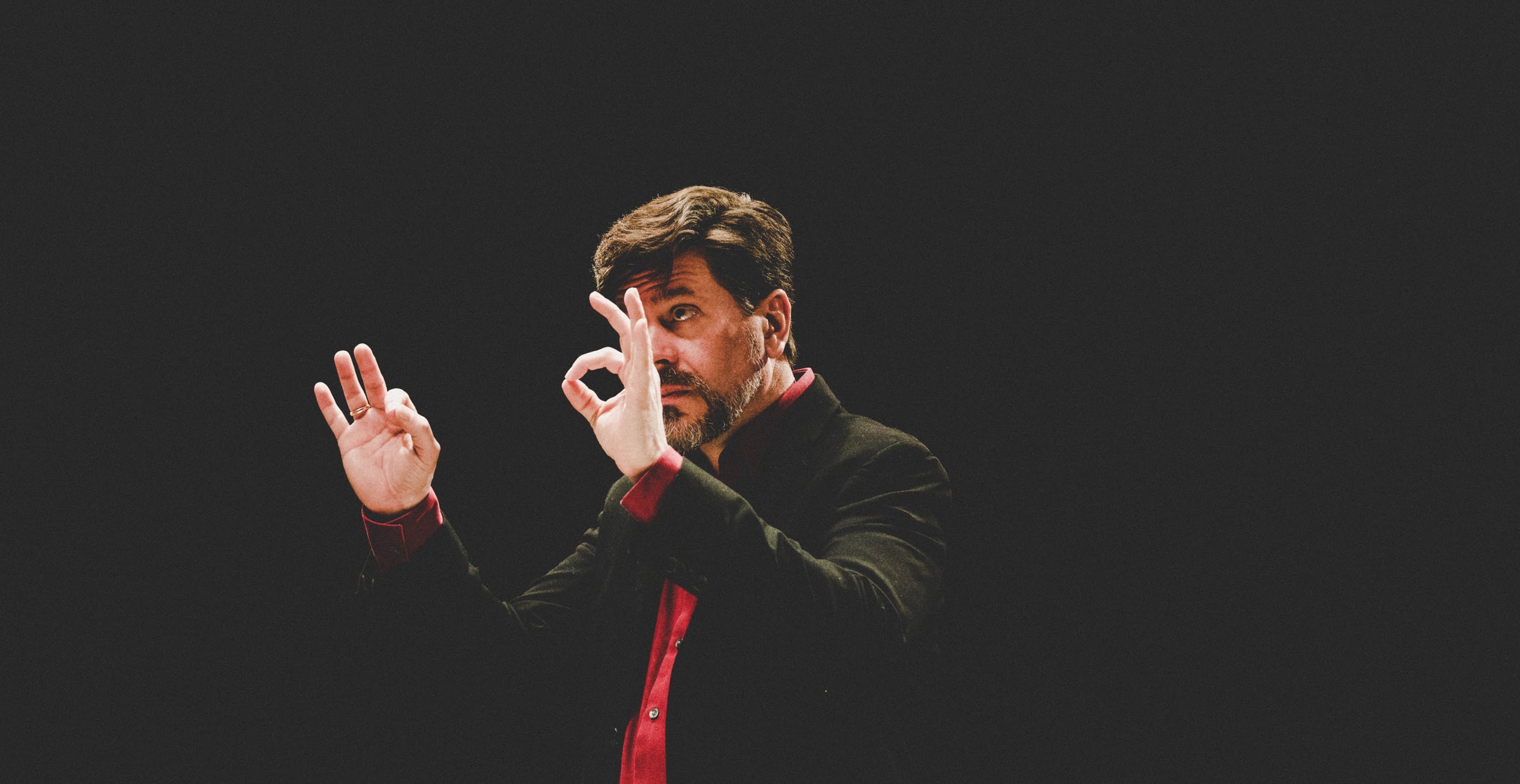 The Jazz Repertory Ensemble meets only in the spring term, allowing members to explore other performance opportunities in the fall. The group performs classic big band literature from all decades with a significant emphasis on jazz composers, arrangers, and musicians from 1930-1950. The ensemble fosters a deep understanding of the cultural and historical roots of the art form and prepares students for the rigors of the Jazz Ensemble. Audition Required.
Deixa Sambar performs several styles of samba, Brazil's national music. Members need not have prior background in music-making, but a good sense of rhythm is desirable. Members include students as well as Ithaca community members, brasileiros as well as newcomers to Brazilian culture. Rehearsals develop playing skills, with a deep emphasis on cultural understanding of this vital, community-based music.
The Music Improvisation Ensemble provides students with the opportunity to explore the elements of music from an improviser's perspective. Each session will focus on a different area of improvisation, including noise, graphic scores, conducted improvisation, free music, small and large group improvisation, and interdisciplinary collaboration with dance and film. This ensemble is open to any level of musician. An audition is required at the beginning of the semester simply as a means of introduction. Informal Audition.